---
Minimise Risk, Maximise Sustainability with the National Standard HR Framework.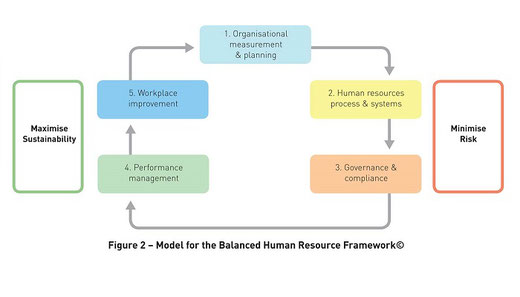 The National Standard Human Resource Framework was evaluated by a Joint Technical Committee comprised of industry representatives.  Based on four years of research by the HR Coach Research Institute, the standard is designed to suit the full array of organisations from large to small, government, private or not-for-profit.  First published in 2010, the Human Resource Framework enables organisations to gain efficiency and focus in human resource management.  The Standard also supports the credibility of the human resource discipline and positions Human Resources strategically, as an essential component of competent business practice.
For organisations without a structured internal human resource function, the HR Framework provides a simple and consistent method of managing people on an annual basis.  The framework provides a guide to good HR disciplines within the organisation, much the same as accounting standards.  A white paper released by the HR Coach Research Institute calls the Human Resource Framework 'A Blueprint for Business' (HR Coach Pty Ltd, 2010) assuring sustainable human resource practice for future organisations by providing a simple and consistent method of managing people on an annual basis.
The Human Resource Framework consists of 5 key components and these five components should comprise the structure of a HR plan for organisations to manage their activities.
1. Organisational Measurement and Planning
2. HR Processes and Systems
3. Governance and Compliance
4. Performance Management
5. Workplace Improvement
Each stage includes elements of evidence based data and strategies to Minimise Risk and Maximise Sustainability.  As you move through these five core components of the framework you come back around to Organisational Measurement and Planning in order to measure the outcomes of the Plan and how well you have executed strategy over the previous year for example.
Some things to consider;
Do you have an HR Plan?
Do you measure your organisational performance or employee and employer satisfaction?
Have you built a firm foundation in your business by minimising risk?
The HR Coach Network spreads across Australasia. 
If you are looking for HR Professionals to help you lift performance and increase profit take a look at the HR Coach website or call our corporate office on 1300 550 674 and find a coach in you area.